Conall & Rhona, Edinburgh
At the end of 2014, we used J.J.oinery to do extensive renovations to our home. The project involved structural work to open-plan and re-model our downstairs kitchen/dining area. The long list of jobs included brick work, electrical work, plumbing, heating, tiling, joinery, plastering and decorating. Our home has been transformed.
They were professional, courteous and very competitive on price. We will definitely keep in touch for future jobs and have already passed their details on to friends and colleagues at work.
We love our new home.








Simon Inglis, Inglis Properties, Kelvingrove St, Glasgow, May 2014
JJ Joinery completed a two level office/residential conversion of a Victorian tenement building in Glasgow west end. Major structural works were planned and executed in a professional manner as per structural engineers. Jakub and Jarin are both open minded, helpful and pleasant in manner. Highly recommended.


Simon Inglis, Inglis Properties, Lansdowne Crescent, Glasgow, Dec 2013
JJ Joinery completed a complete refurbishment of a 1st floor flat. Relocating the main bathroom , creating an open planned kitchen / lounge , laying solid oak flooring throughout , el. rewiring, plumbing. All works proceeded without issue. Highly Recommnded









Kirsty Holmes, Colinton Road, Edinburgh
I write this letter in recommendation of JJ Joinery as a building contractor. We had the pleasure of working with Jarin & Jakub on the extension of our house in 2013/2014. I can recommend them highly and without reservation. Throughout the course of the works Jarin was a consummate professional. He was accurate in his initial assessment of the scale and cost of our project. Due to unforeseen circumstances and changes in our requirements the final cost did increase marginally, however, Jarin communicated well & offered us options throughout the build. He chose and managed the sub-contractors well, allowing us to relax in the knowledge that the project was being managed efficiently. They were respectful of our home and the choice we made to live-in throughout most of the build. They are trustworthy and skilled in their work. Our job was done with care and precision & the finished product has exceeded all our expectations.








Larry Egar, Eyre Crescent, Edinburgh
I would not hesitate to recommend JJ Joinery. My wife and I planned our kitchen carefully before the project. It was a big job involving converting a window into a doorway, making beautiful oak French doors and shutters, installing a lowered ceiling with spotlights, laying a new floor, hiding old boxed-in plumbing, kitchen installation and tiling. We designed our dream kitchen and Jakub and his brother made our dream a reality. They were so kind, patient and helpful all the way through the project. They never went off-piste on instruction or price. They took time and care to realise our project and were sympathetic to our ideas. We have had a couple of poor experiences with tradesmen in the past, but working with JJ Joinery was a breath of fresh air. The brothers listened to our requirements, queries and questions and thought of practical and elegant solutions to problems. They clearly take pride in their work. The results they produced surpassed our expectations. They are true craftsmen. Several friends and colleagues have commissioned work from JJ Joinery and all are equally delighted with their careful, thoughtful work. I'll definitely commission them for my next project.








G. Bingham, Buckingham terrace, Edinburgh
I had used Jarin for a small joinery job and when we decided to replace our en-suite, main bathroom, cloakroom and office we were happy for J.J.joinery to quote to do all the work. The en-suite and Main bathroom were complete rip-outs and reinstallation so quite a bit of work to do. We were happy with the quotes and we made some changes along the way. Original quote was similar to the finished price but every increase expense was explained and we were happy to pay to summarise, we were very happy with the end product. These guys obviously take pride in their work and their attention to detail was great. I have to be honest and say I was thoroughly impressed with J.J.joinery's professionalism from start to finish and we are now the proud owner of beautiful, gleaming, well-fitted bathrooms. Overall, it was a surprisingly unstressful experience and I wouldn't hesitate to recommend them. The finished product is EXACTLY what we wanted.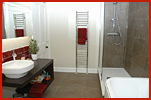 Chris and Kathryn Pidcock, Newington, Edinburgh
J.J. Joinery converted a kitchen window into a French door for us. We were very impressed with the standard of their work and their professional attitude. The work was completed on time, they tidied up each day and the end result is fantastic. Even the inspector from Edinburgh Building Standards commented on the quality of their workmanship. We would highly recommend them.




Ian and Ivona Kilgour, Pilton, Edinburgh
We have used J.J. Joinery on a couple of occasions to improve our home. Each time has been a great experience with exceptional results. J.J. Joinery are sensitive about ensuring the quality of the work, and have a great vision on what can be done. Friendly, flexible and affordable. Very happy with our new built-in wardrobe and kitchen! We would not hesitate for a second to hire J.J. Joinery for another job or to recommend the company to someone else.
Well done and thanks again.


Inga Barrowman, Colinton Road, Edinburgh
Over the past couple of years we have used J.J.Joinery for our property development projects (new kitchen, hardwood flooring, new victorian shutters, japanese shutters,etc). We found all estimates very reasonable. We have been very pleased with the high standard of work and the enthusiasm with which the challenges were approached. We would have no hesitation in using the services of J.J.Joinery again, and highly recommend them.






Abe Remmo, Pilrig, Edinburgh
Our bathroom was in major need of renovation after doing other home improvements for us, we invited JJ Joinery back for this task. We had our own ideas but JJ weren't afraid to suggest improvements to our plans. The end result was far better than we expected and all done at a very reasonable price. My wife is an architect she can't get over how much of the small detail was taken into consideration. Given the outstanding quality of their work and their open and honest approach I will certainly continue to use the services of JJ Joinery in the future and have gladly recommended them to others.


Michal and Hana, Edinburgh
We would like to thank JJ Joinery for the exceptional job they have done on our new kitchen, built in cupboards and floor. JJ Joinery are highly skilled, creative, honest, responsible, with great attention to detail. They were very quick to complete the work and the final result is fantastic! We couldn't have asked for any better. We have already recommended their services to others, and If we have any future projects we know who to call.

Our new kitchen was instaled and customised to bespoke measurements, including the electrics, lowered ceiling with spotlights and multiple switches. Very happy! They built and installed new fitted cupboards and laid new laminate flooring cut to perfection. If you want fabulous joiners, look no further - you've found them.




If you have any queries please call us on: +44 754 538 0110 or +44 758 408 4054.